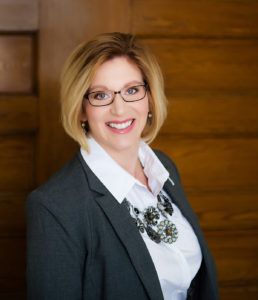 Maureen's LLC has announced the hiring of Patti Burgraff as a Designer. Patti is an experienced interior designer with over 14 years in the industry serving residential and commercial clients.
Patti joins Maureen's team of designers, and specializes in space planning and window treatments. "I love working with clients," said Patti. "I like the challenge of finding the perfect item to achieve a distinctive and decorative look without compromising function."
The addition of Patti further expands the company's capacity to serve clients as Maureen's LLC continues to grow. Maureen's LLC recently opened a Kitchen + Bath Design Studio in Duluth at 4504 Grand Avenue – adjacent to the West Duluth Whole Foods Co-op. In addition to design services, the location features a showroom highlighting cabinetry, flooring, lighting and window treatments.
Window treatments are an area that will see a great expansion with the addition of Patti. "A lot of people don't realize the important role that window treatments play in a room or home," said Maureen Plaunt, owner of Maureen's LLC. "Beyond providing a visual element, window treatments such as blinds or shutters provide a real function in controlling the amount of light in a room as well as temperature and even energy efficiency."
"That's why I'm so excited to have Patti as part of the team," continued Plaunt. "With the combination of her design skills and expertise in window treatments, she will allow us to better serve our clients in choosing the right solutions for their home without sacrificing form or function."